Regular price
$24.99 USD
Sale price
$19.99 USD
Unit price
per
Sale
Sold out
Unlock your potential with Gadget Connections Exclusive Circuit Logo Lockpicking Kit! 
At Gadget Connections, we understand the need for access when it comes to locks. That's why our exclusive Folding Pocket Lockpick Jackknife Set is perfect for any professional locksmith or DIY enthusiast. With its limited edition Circuit Logo design, this pocket-sized set has everything you need to pick any lock quickly and easily - including seven essential tools like a tension tool and six picks of various shapes and sizes. 
Get your hands on this must-have today before they're all gone! 
Folding pocket lockpick jackknife set is a Gadget Connections exclusive circuit logo, limited edition
A Jackknife folding lock pick set is a compact and portable lock picking tool that folds into a compact and easy-to-carry design resembling a folding knife or multi-tool. Here are some features and information about this type of lock pick set:
The Jackknife folding lock pick set is designed to be carried in a pocket, purse, or bag, making it convenient for locksmiths, security professionals, or anyone who may need to pick a lock on the go.

The lock pick set includes a variety of tools, such as picks, tension wrenches.

The tools are made from high-quality materials, stainless steel, and are designed to be durable and long-lasting.

The folding design of the lock pick set allows for easy access to the tools, as well as protecting them when not in use.

Jackknife folding lock pick sets also feature a locking mechanism that keeps the tools securely in place when folded.

When unfolded, the lock pick set can provide a range of picking options, including single-pin picking, raking, and bypass techniques.
Jackknife folding lock pick set is a convenient and practical tool for those who need to pick locks on the go, or simply want a compact and portable lock picking kit. However, it should be noted that lock picking should only be done by trained professionals or with permission from the owner of the lock.
It is your job to be informed about the legality of possessing lockpicks in your state or jurisdiction.

Add this superbly versatile piece of kit to your EDC set or carry it around with you in case of emergencies, or learn to lock pick with our multitool.


You get to be James Bond, Ethan Hunt, Jason Bourne, this is one of the most impressive lock pick selections, always accessible in your pocket that you can own.
Share
View full details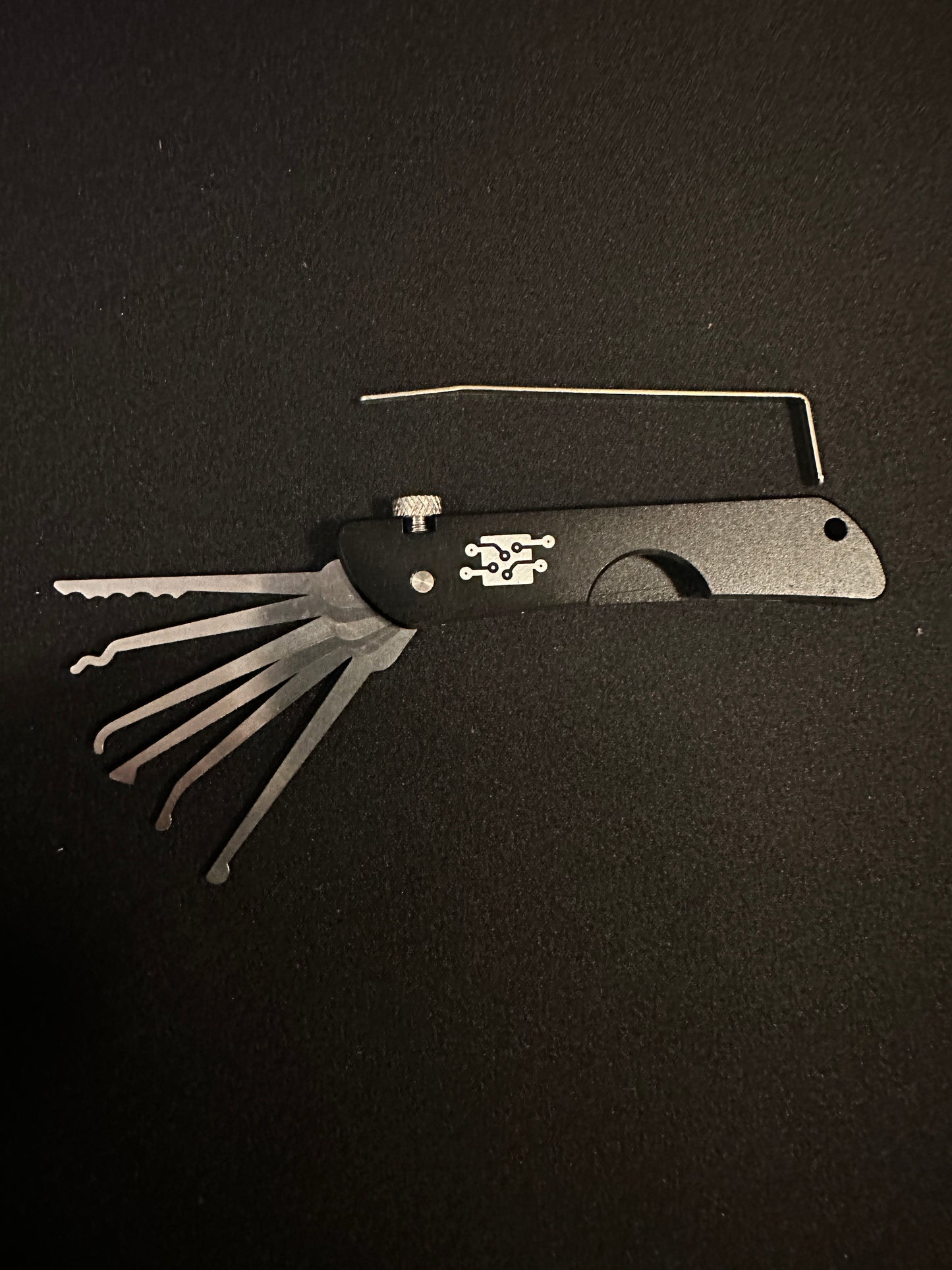 It's pretty good, works well. It is a good affordable way to get into lock picking.
Works perfectly, had to bend the tension bar a tad so it would stay in it when in my pocket but other than that.. Superb